So You Want to Launch a Product? Sending your Idea into Orbit
Learn the steps you need to take to develop a competitive product & build a profitable company with Allen Moore President of Touchstone3D
About this Event
VIRTUAL PRESENTATION | April 20th | 1:30pm – 4:30pm
Have you figured out a product opportunity but aren't sure how to make it a reality?
Maybe you've already started prototyping, but you're not sure about the next steps?
Want to learn how to vet your idea while maximizing your capital investment and spending your time efficiently?
Who Should Attend :
Entrepreneurs who want to learn how to avoid common product development pitfalls
Inventors with a twinkle in their eye and want to know how to get started
Start Ups who want to accelerate their product development journey
Description:
Getting your product to market is a lot like sending rocket ship into orbit. You've got to have the technology, resources, and team to get it there.
Many entrepreneurs spend inordinate amounts of time and money pursuing products that are, in the end, not viable. We see entrepreneurs who are developing great products but spend their resources inefficiently and never make it to market. And we see products make it to market, but lack the branding and identity needed to connect with consumers and thrive. This course is designed to "pull back the curtain" and paint a realistic picture of product development and its best practices
Participants Will Learn
Our goal is to inform our audience of avoidable pitfalls and present a structured method of product development to take a product through the gauntlet of stages to a successful market launch. This overview webinar includes content such as:
How does a prototype become a product?
What is the difference between New Product Introduction and Product Development?
What is a Product Development Process and why do I need one?
Who are my customers and who are my competitors?
Am I designing the right product for my market?
How do I apply engineering, prototyping, and manufacturing to build the product right?
We welcome a lively, interactive Q&A so all can learn from each other.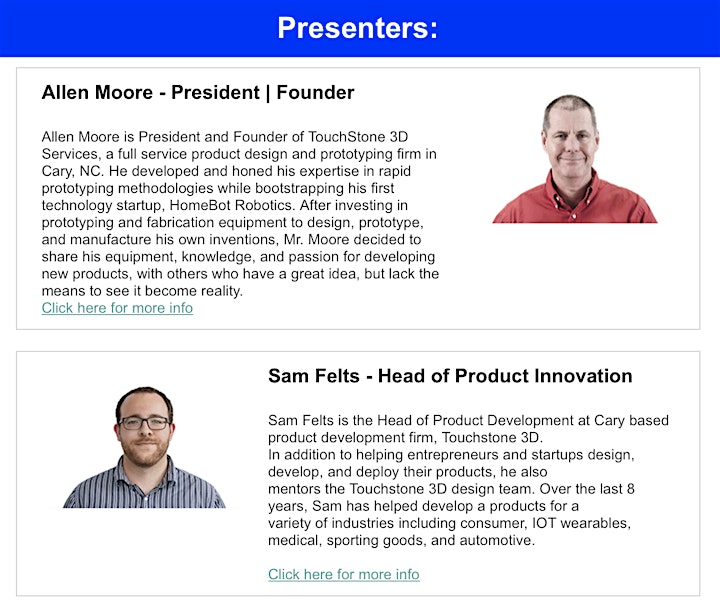 Touchstone 3D is a product design and development firm located in the Research Triangle region of North Carolina. The company has been in business for 16 years. Touchstone 3D's specialty is the design of products that integrate electronics and electro-mechanical elements with innovative mechanical concepts to produce state-of-the-art product solutions in a variety of markets.
The company has a 6000 square foot facility which includes a design studio utilizing advanced CAD (Computer Aided Design) software, as well as in-house prototyping labs with capabilities including 3D printing, plastic, rubber, and silicone part fabrication, laser cutting, vacuum forming, and CNC machining. Touchstone 3D employs Industrial Designers, Engineers, and Prototyping Technicians who specialize in rapid prototyping in the early stages of design, and commercialization in later stages of product development.

YOUR CHANCE TO WIN!!!
2 Scholarships for 1 Month Hangar6 Memberships
The best way to appreciate the time and cost savings of using our state-of-the art advanced prototyping equipment at Hangar6 is HANDS ON USE. In addition, meet experienced Shop Manager, Sam Dirani, who offers design, materials selection, prototyping guidance and inspiration entrepreneurs in pursuit of their dream.
Immediately following the Touchstone presentation on April 20th, all attendees will receive a link for the application to apply for a 1 month free Hangar6 membership. Two scholarships are available!!!
To learn more about the amazing collection of advanced prototyping equipment and member support at Hangar6, visit our website.