Over at The Frontier, our hardworking team is always exploring new ways to heighten user experience throughout the space. This is no easy feat considering the entire first floor is free for anyone to use, the coffee is complementary, and the private meeting rooms can be booked online (and are also free). We even added in a piece of the Berlin Wall! So, what's an enterprising team left to do? If your first thought was, "team up with a furniture distributor to create a living showroom," then you deserve a free beer on us – come visit one Thursday afternoon.
When the redevelopment of RTP was in its infancy, one of the first things pegged as an opportunity was to create a place that served as a type of interactive laboratory. The goal of a living laboratory is to provide a place for innovators to show off and test their wares on the public. In turn, the public gets to see cutting edge technology and design at work. Since The Frontier serves as RTP's first foray into the Park Center development, we decided to embark on our first living laboratory experience.
Today at The Frontier, this concept has turned into reality thanks to Indoff Furniture, a company specializing in various kinds of office furniture. Working with Kerry Guest, our team has brought in all kinds of new items to enhance your work experience. So, below are 5 unique ways to work throughout The Frontier:
1 | Bike Desk
The GIF explains it all!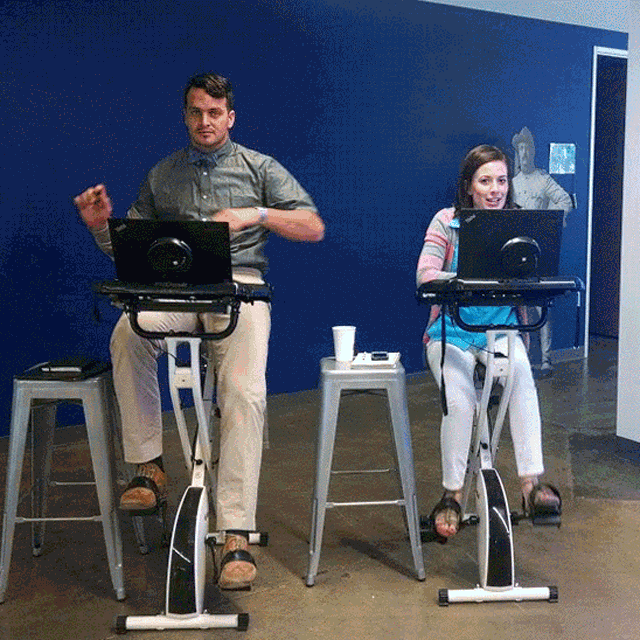 2 | Standing Desk Tool
This versatile piece of equipment can turn any flat surface into a standing desk. Very practical for the person interested in experimenting with a standing work station.
3 | Next-Gen Fitness Balls
These pod-like seats are taking fitness balls to the next level. These little guys aren't quite as wiggly as their predecessor, and allow the user to focus on good posture without the fear of falling on their face.
Bonus: Users can write with dry erase markers on the side tables!
4 | Whiteboard Bar
It's a bar, it's a whiteboard – It's a Whiteboard Bar! Perfect for the large or small team that needs to collaborate, this whiteboard can swivel, making it ultra-flexible. This piece serves as a very functional design element, and while it's not part of our collaboration with Indoff, it's definitely unique to The Frontier.
5 | Cubicle Bar
Okay, so this one isn't technically designed for working, but it's still awesome! The pieces used to make up the bar area are actually meant to be used as part of cubical system. The pieces were put together as a bar, and work out perfectly.